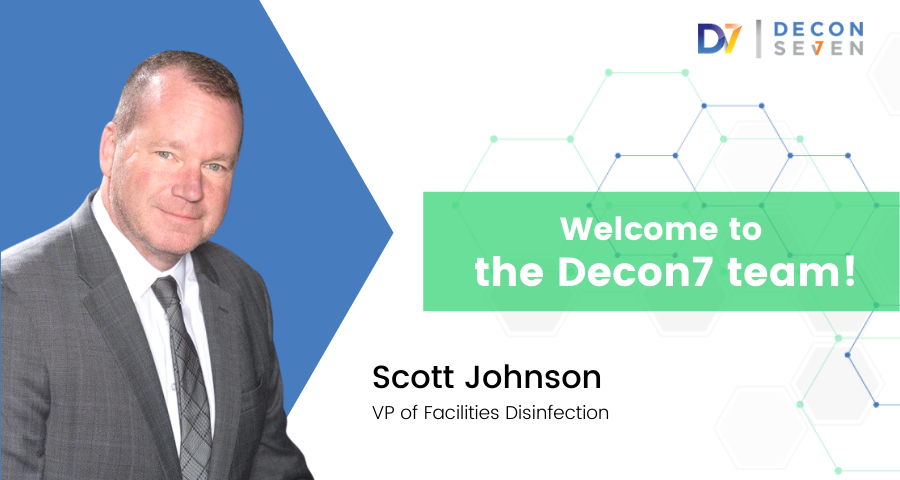 Decon7 is proud to add yet another industry veteran to our accomplished team. Scott Johnson joins us as the VP of Facilities Disinfection, which is a new role in the company. We're looking forward to the development of this new department under Scott's leadership.
Industry Experience and Expertise
Prior to joining Decon7, Scott spent eight years with Jani-King as a Divisional VP with a focus on increasing profitability in a five-city territory. In this operations role, his responsibilities included growth, sales, and franchise development. Earlier in his career, he developed his coaching and sales skills at Orkin as a District Sales Manager.
With a couple decades of service industry experience under his belt and a background in chemistry, Scott is the perfect fit for his new position at Decon7. Like many industries, the cleaning and disinfection world is a small one, which means Scott can maintain all of his professional relationships as he transitions into his role.
Scott's Role at Decon7
As the VP of Facilities Disinfection, Scott will be building a new department from scratch and will be responsible for the sales and technical teams. The pandemic has created increased demand for EPA-registered disinfectants, and Decon7 is growing in response. The initial focus of this department will be on industries such as:
Hospitality: Hotels, restaurants, and resorts
Education: K-12 schools, colleges, and private schools
Sports venues: Gyms and stadiums
Healthcare: Hospitals and surgery centers
All of these industries, especially those that are customer-oriented, want the people who use their facilities to feel confident in the level of disinfection, and D7 is a product that delivers. Scott says, "You won't find a product on the market with better efficacy, and you won't find an easier-to-apply product with all the features and benefits of D7." Because of this, his primary goal is to educate people about why D7 is better than other alternatives.
What Does Facilities Disinfection Entail?
With so many years of experience in the industry, Scott knows that the disinfection plan depends on the type of facility. However, it always includes using effective products like D7, implementing the appropriate application process, and setting up and following a maintenance plan. Ongoing contamination risks, such as foot traffic and other potential sources of exposure, must be mitigated as part of the maintenance plan.
The global pandemic is obviously a significant focus for Scott at the moment, but because the product is effective against pathogens such as Staphylococcus bacteria, MRSA, and SARS-CoV-2 (COVID-19), it is versatile enough to be used for a range of applications that will be necessary long after the pandemic has ended.
From Scott's perspective, there is a silver lining to the current situation. He says, "The one thing that COVID has done is changed a lot of mindsets about the cleanliness of a facility." He believes even when facility managers get back to business as usual, there will be new attention to the potential risks of contamination, which is why he is taking a comprehensive approach to sales.
The Draw to Decon7
Scott appreciates the entrepreneurial spirit at Decon7, especially the ways it manifests in the day-to-day aspects of the work when team members take a collaborative approach to solving problems. He also truly believes in the product and recognizes that it stands out above the rest. In his own words: "The more I learned about it, the more I was utterly amazed at all of the different things it can do. I have 110-percent belief in the product and what it can do for people."
The Current Challenges of Facilities Disinfection
Not surprisingly, when the pandemic hit in March, a lot of competitors started heavily promoting their products that have disinfection rates of 99.9 percent or similar. Scott notes that if the products were being graded, this log kill rate would represent a "D," especially in comparison to D7's 99.9999 percent disinfection rate. Of course, not everyone is aware of this distinction, so an important part of Scott's role will be to educate existing and potential customers about the differences between EPA-registered disinfectants.
What Makes D7 Different?
The COVID-19 virus typically has a biofilm covering and D7 has detergents that can break down those barriers so that the disinfectant ingredients can reach and kill the virus within. The product also has low corrosivity and toxicity, which makes it safe for use around kids and pets. Scott also believes that one of D7's greatest strengths is that there are so many different ways to use it, from disinfecting the inside of a vehicle to laundering firefighter gear. Scott's last word on D7: "It's just a wonderful product that really works and won't hurt anything or anybody."
To learn more about how you can use EPA-registered disinfectant D7 in your facility, read The Decon7 Guide to Coronavirus Disinfection in Commercial, Industrial, and Public Facilities.