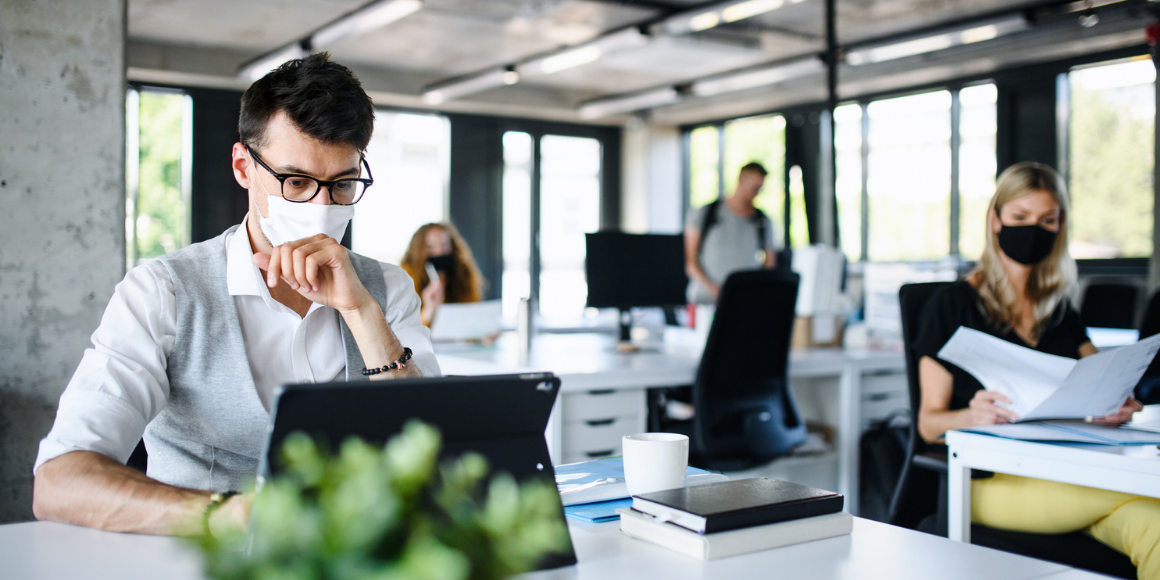 With more people returning to work as vaccines become readily available, it's important that employers put measures in place to protect employee health. Employees want to feel confident that they are entering a safe workspace, and employers want to minimize risk as much as possible. Businesses can start by following CDC guidelines and implementing these tips.
Use Proper Sanitation Methods
More than ever, it is critical to choose effective sanitation products and apply them correctly.
Understand the importance of the products you choose.
It's essential to look for EPA-registered disinfectants that are effective against COVID-19. This includes D7 products, which are proven to inactivate the SARS-CoV-2 virus on hard, non-porous surfaces in one minute. If you're not sure if a product can claim efficacy against COVID-19, reference the N List. When comparing multiple products, it's also important to evaluate the log kill claims and choose products with higher kill rates. For any product you select, follow the label directions for dilution and contact time to ensure it is properly applied.
Create a cleaning and sanitation schedule based on your business needs.
Employees and patrons expect certain actions to be taken to protect their health, including a clear cleaning and sanitation schedule. Make time for the frequent disinfection of shared objects and surfaces and assign people responsible for doing so. Your schedule should also include daily disinfection of common areas such as break rooms, restrooms, and kitchens. Periodic deep cleans—including cleaning HVAC systems—are also important. Do one deep clean before people return to work, and then schedule them monthly or quarterly.
Create a Safe Environment
After more than a year of taking safety measures to reduce the spread of COVID-19, many people have expectations about what a safe work environment should include.
Make It Easy to Stay Safe
Offer PPE such as

hand sanitizer

, gloves, and masks to both employees and visitors.
Keep supplies well stocked and readily available throughout the work space, so people can grab what they need when they need it.
Use visual cues to encourage social distancing and set up physical barriers when social distancing isn't possible.
Schedule handwashing breaks and ensure you have enough staff to allow all employees adequate time for handwashing and disinfection.
Consider screening with temperature checks and daily questionnaires to identify potential symptoms.
Encourage people to stay home when they don't feel well.
Ensure Proper Ventilation
Maintain good ventilation in indoor spaces, because COVID-19 spreads primarily through airborne droplets.
Open windows when weather allows to increase air circulation.
Upgrade ventilation systems when possible to ensure fresh air is brought into the building and stale air is expelled.
Enforce Social Distancing
Set up one-way traffic patterns to limit people from crossing paths.
Restrict the number of people that can gather in enclosed spaces and common areas to allow for social distancing.
Rearrange work stations to ensure adequate space between them.
Allow Flexibility
Let people continue to work from home part time to limit the number of people in the space, if your business model allows for it.
Give employees enough sick time to stay home if they're not feeling well or if they have potentially been exposed to COVID-19.
Stagger work schedules to minimize the number of people occupying shared spaces.
Communicate and Train
Make sure employees understand how the virus spreads and what they can do to reduce risk for themselves and others.
Announce safety measures to let employees know what you are doing to protect their health.
Post signage about recommended hand washing methods.
Assign roles and responsibilities for cleaning and disinfection to ensure tasks are completed.
Train employees on proper usage of cleaning and

disinfection products

and provide resources they can reference.
Talk about all of these topics more than once—it takes time for the information to stick and become a habit.
How Decon7 Helps
D7 is an EPA-registered disinfectant that has been proven to reduce the spread of COVID-19 by inactivating the SARS-CoV-2 virus on hard, non-porous surfaces with a contact time of only one minute. Decon7 products are also effective against the most common foodborne pathogens and viruses.
Depending on the application, a variety of Decon7 products can be used to create a safe environment for employees. D7 foam and spray can be used to disinfect surfaces*, and Decon7 BZK hand sanitizer can be provided to employees and visitors, both when they first enter the workspace and at strategic locations throughout the business.
Check out our "Restaurant and Hospitality Disinfecting Checklist" for more helpful tips.
*See label for specific use instructions