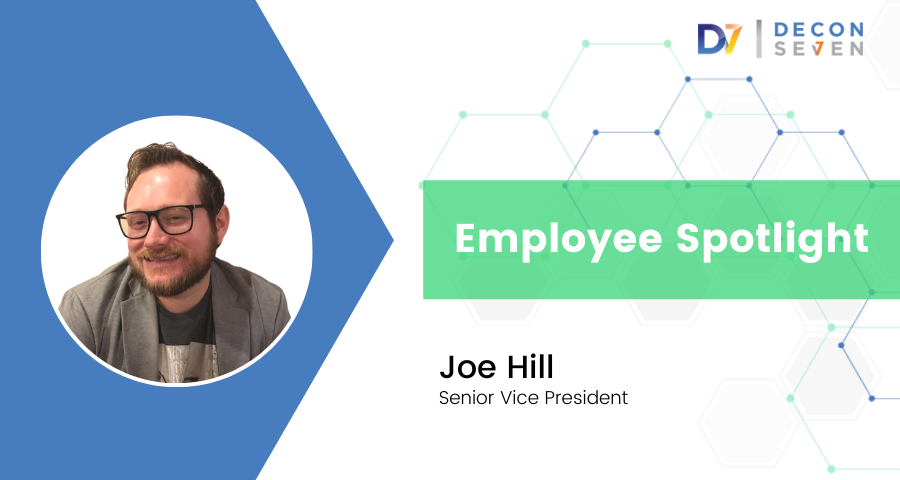 Passionate problem-solver and former Marine Joe Hill serves as the Senior Vice President at Decon7. We interviewed Joe to learn more about this key member of the team and his vision for the company's future.
How long have you been at Decon7?
I started in 2017 as a product manager for the defense and public safety vertical. In 2018, I became the vice president of that department and was responsible for building out human resources and generating new business opportunities. In 2019, I transitioned to the role of Senior Vice President across all revenue verticals, including facilities disinfection and defense and public safety. As Senior Vice President, I am a member of the executive management team, including both sales and marketing.
What is the primary challenge in your role at Decon7?
The biggest challenge we face is strategically narrowing the focus to build the brand. The potential applications for D7 are so broad that we have to decide which industries we will selectively target.
What did you do before you joined Decon7?
I was a firefighter for two years because my family has strong connections with the firefighter community, and I spent a lot of my childhood in a firehouse. After that, I spent ten years in the U.S. Marine Corps, where I gained deep knowledge of chemical, biological, radiological, nuclear, and high-yield explosives (CBRNE).
I applied that knowledge in my first job out of the Marine Corps working in CBRNE logistics with a consolidated storage program for the Marine Corps. I then returned to my roots in logistics as a contractor for the Marine Corps, working on the operations and technical side. I was the lead trainer for the Marine Corps installations program on the west coast and in Japan, providing anti-terrorism and chemical attack response training to all stakeholders.
I later worked in the Explosive Ordnance Disposal CBRNE program and managed a team to field and maintain new kits for all explosive ordinance. The rest of my career consisted of similar training and management roles in the CBRNE field and ultimately grew to include business development.
What drew you to Decon7?
Decon7 was a supplier for the government distribution company I was working for, and I knew the product from my time in the military. I found a job posting on LinkedIn and thought it would be a great fit for my skill set and experience.
What do you enjoy most about working at Decon7?
As a fan of Simon Sinek, I need to find my "why" and alignment between that and my work. In my case, once a marine, always a marine—my instincts are to protect people, and Decon7 provides products to do that. There are serious threats to the food industry, so the supply chain is always at risk. D7 products protect our food chains and the foods that consumers eat.
As somebody who comes from a long line of firefighters, I'm also passionate about helping firefighters protect themselves from cancer. D7 products can remove contaminants from turnout gear, significantly reducing the risk of exposure to harmful toxins. This is also important for protecting our water supply because the chemicals in the wastewater are neutralized. I'm really excited about our Mobile Extraction Unit (MEU), which will allow us to serve multiple stations. I also appreciate that the team at Decon7 is always trying to make improvements, learn more about the chemistry, and refine the process.
Where do you see Decon7 moving in the future?
I'm hoping to explore new verticals and find new opportunities in the industries we already serve. There is room to grow in the food and biosecurity sector, including animal health and other sub-verticals. We also have many customers who consider D7 products to be the last resort when all else fails. I would love for them to shift their perspectives and use D7 from the beginning.
Within defense and public safety, Decon7 can address more public safety threats in government agencies. We can also provide training for bomb squads and blast mitigation teams as well as CBRNE and HazMat teams. There is also a great deal of potential to expand with the MEU to reach fire stations throughout the country. Other areas for expansion and growth might include facilities disinfection and EU registration so we can collaborate with partners in emerging markets.
What interests do you have outside of work?
I used to play rugby in the military and am a member of the Old Breed Rugby Football Club and the North County Gentlemen's Rugby Football Society. I also like to stay active by practicing jiu-jitsu, wrestling, and playing with my three dogs. To stay active in the community, I participate on the board of several cultural and social nonprofit organizations.