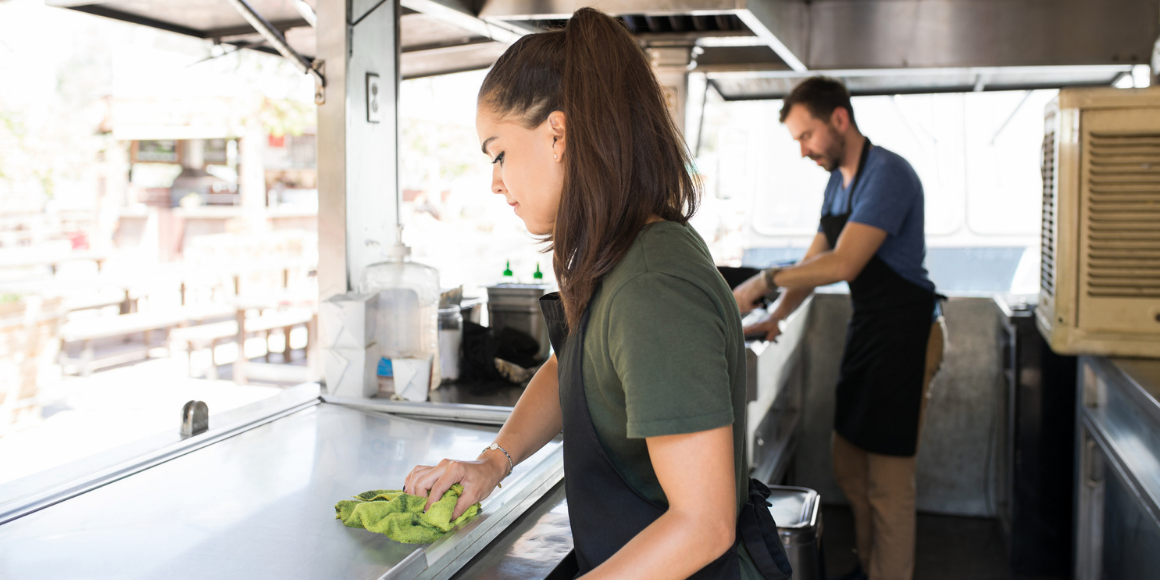 Food truck owners already have to worry about maintaining proper sanitation procedures, and now COVID-19 has made it more complex. Although more people are becoming comfortable eating at restaurants and food trucks again, the industry must maintain high standards for sanitation and disinfection. Customers are on high alert for practices that don't meet their expectations. By implementing a few tips, you can exceed them.
5 Tips for Food Truck Sanitation and Disinfection
1. Follow Food Safety Protocols
This is nothing new for food truck owners, but it's always important to follow food safety guidelines to keep people safe from foodborne pathogens. Nothing will destroy a brand faster than an outbreak caused by contamination, and word travels fast, especially for food trucks that market primarily through word of mouth. Make sure all employees are trained on food safety protocols, including:
Avoiding cross-contamination
Maintaining food temperature
Dishwashing and handwashing
Maintaining clean water sources
Understanding relevant local health codes
Mobile hygiene and food truck sanitation can be different from standard restaurant practices, so even experienced people might need to learn new habits.
2. Pay Attention to Customer-Facing Areas
Help prevent the spread of COVID-19 by disinfecting frequently touched surfaces, including the service counter, condiment station, payment area, and so on. Post signage to let customers know what you're doing to protect their health and provide hand sanitizer that customers can use before they approach the truck.
3. Train Employees
Don't assume your employees know how to maintain a sanitary environment, even if they have a lot of food-service experience. Take the time to train everybody on the same processes for consistency and provide periodic refresher training to keep the information top of mind.
It's also essential to ensure employees understand how to apply products, including contact times and rinsing requirements. Reinforce that disinfection is everybody's job and make sure everybody knows which tasks they are responsible for so nothing falls through the cracks.
4. Keep Records
Not sure when the last deep clean was? Implement a tracking system so that you always know when work was completed and by whom. Whether on paper or digital, keeping a log of disinfecting activities can help you stay on track. Employees are also more likely to complete daily and periodic disinfection tasks if they know their activities are being tracked.
5. Don't Forget the Driver
Although the back of the truck is where most of the action happens, it's still important to keep the cab of the vehicle clean and disinfected, especially if multiple employees drive the truck. Disinfect the commonly touched surfaces—such as the steering wheel, door handles, and so on—between each use so employees can feel confident in the workplace (even if it's mobile).
D7 for Food Truck Operations
Unlike many other sanitizers used in the food industry, D7 is an EPA-registered disinfectant that can clean and disinfect in one step. D7 is also a degreaser, making it a great choice for cleaning drains, soda machines, hood vents, BBQ and smoker parts, and even floors that get too greasy. D7 also kills bacteria, viruses, and the most common foodborne pathogens*.
The products are safe for workers to apply, safe to use on food contact surfaces (with a potable water rinse), and trusted by the largest food processing businesses in the industry. D7 also has a higher log kill rate than bleach and other commonly used surface disinfectants, meaning it kills more bacteria and viruses with each application*.
One of the greatest advantages of using D7 for food truck operations is its versatility. D7 foam allows workers to see where the product has been applied. The clinging foam stays on vertical surfaces and ceilings for at least the minimum recommended contact time and expands to reach pathogens* hiding in the smallest spaces. D7 spray is easy to apply on frequently used surfaces between customer interactions. D7 fog allows you to treat the entire truck in one session, eliminate lingering odors, and cover every surface in the treatment area.
For more information about how you can use D7 in food truck operations and beyond, check out The Decon7 Guide to Coronavirus Disinfection in Commercial, Industrial, and Public Facilities.
*See label for specific use instructions.